Yesterday was a huge day for Apex Legends Season 7. Not only was the next legend revealed through some in-game challenges and teasers, but Respawn Entertainment unveiled a new version of the game. However, unlike previous editions of the battle royale, this one works a little differently. Named the "Champions Edition," this new version of Apex Legends includes much more content than other editions. Complete with weapon and legend skins, Apex Coins, and every legend in the game, the Champions Edition looks like a tremendous offer.
Apex Legends unveils the Champions Edition
This was an unexpected announcement from the developers at Respawn. We've seen smaller editions in the past but this is unlike anything we've seen before. More suited for new players coming to Apex Legends, the Champions Edition has everything you need to get started.
Containing over $100 worth of cosmetics and items, the new edition is set to arrive during Season 7. Only costing $40, Respawn is offering some pretty amazing items in the offer. Here's everything you'll unlock if you decide to purchase the Champions Edition.
Ready to become an Apex Champion? You could be, with the Champions Edition. Available starting Season 7, the Champions edition is packed with character unlocks and exclusive items to get you started right. pic.twitter.com/231Ca4WCfu

— Apex Legends (@PlayApex) October 13, 2020
9 character unlocks (all Legends up to Season 7): Caustic, Mirage, Octane, Wattson, Crypto, Revenant, Loba, Rampart, and the Season 7 Legend
7 Exclusive Legendary items:

"Risen Queen" Wraith skin
"Forged Knight" Revenant skin
"Hallowed Spirit" Crypto skin
"Curse of the Awaken" Triple Take skin
"Slayer's Lancer" Flatline skin
"Jaded Myth" Sentinel skin
"Emperor Nessy XIV" Gun Charm

1,000 Apex Coins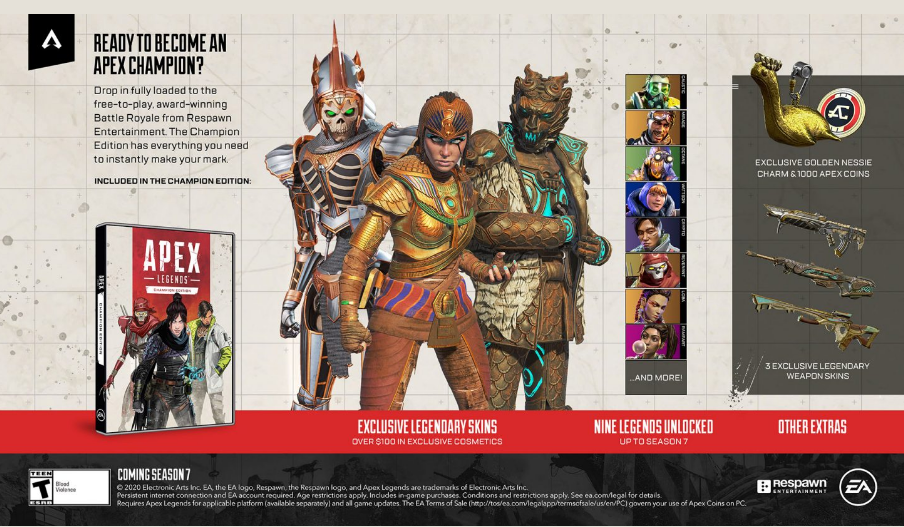 Respawn has stated that the legends you unlock will only be up until Season 7. So, with the Season 7 legend set to be Horizon, you'll unlock all 9 characters in the game at that point. After that though, you'll need to unlock them like normal.
If you're just starting out in Apex Legends or simply want some cool skins, this is a great offer. As soon as Season 7 releases, you'll be able to purchase the edition through the store on your respective platform.
Make sure to keep up with Daily Esports for all Apex Legends news.