The sky is literally the limit in Cyberpunk 2077. CD Projekt Red decided to take advantage of its technological world and include a ton of abilities for the inhabitants of Night City. For the most part, these abilities come from the city's doctors, otherwise known as "Ripperdocs." These NPCs are found all over the map and can install a slew of new Cybernetic upgrades to your character. However, perhaps the most intriguing one is an upgrade for your legs that gives you the ability to fly. Here's how to fly in Cyberpunk 2077.
Flying in Cyberpunk 2077
The process of flying is rather simple as long as you have the correct amount of funds. All there is to it is finding the right Ripperdoc, paying for an upgrade, and then flying to previously unreachable areas of Night City. Of course, you still need to know where the Ripperdoc is and how many eddies you need for the purchase.
To start, you'll want to make your way over to Jig-Jig Street in Westbrook. This is the infamous area of Night City with Joytoys, strip clubs, and other sorts of nefarious establishments. Once at Jig-Jig Street, find the Ripperdoc in the northwest part of the location. The doctor is named Fingers, and you might have met him if you've searched for Evelyn Parker.
Head up to Fingers' office and ask him to install some upgrades. Once on the Cyberware page, go down and select 'Legs.' In the Legs category, there will be an upgrade called "Fortified Ankles," which is what you want. You can either buy the epic or legendary version of the upgrade for 45,000 and 75,000 eddies, respectively.
Whichever one you purchase, you'll be able to hover and essentially fly through the air. Follow the instructions on the upgrade's description tab to understand how to fly. However, it's quite simple, as all you have to do is hold the jump button.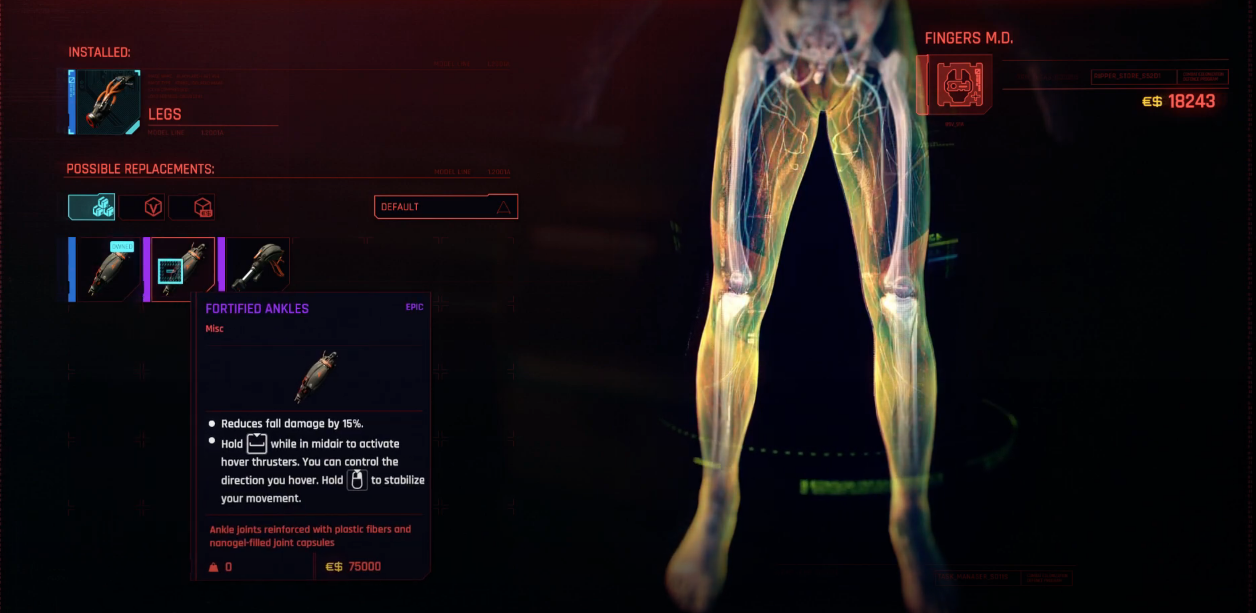 Although, if you want to fly even further, purchase the Kerenzikov upgrade. This will slow down time when activated and allow you to fly to incredible heights. To accomplish this, aim your sights to the sky, mash the forward keybind, and then hold the jump button.
That's how to fly in Night City. Make sure to stay tuned to Daily Esports for more Cyberpunk 2077 guides and news.